Celebrity Friends Supporting Each Other During the Coronavirus Pandemic
Steph Deschamps / Mai 14, 2020
On at least one side of the ever-flipping coin, trying times have been known bring out the best in people—and their relationships with each other.
While normally we're treated around the clock to celebrities buddying up at events, cracking each other up on talk shows, hosting parties and generally being out in the world (or at least on screens at movie theaters or performing on stage), star-gazing these days has been relegated to who you see online—for us and for them.
But though most everything is happening behind closed doors (or in gigantic backyards, or chef's kitchens, walk-in closets and home gyms), the inclination to share personal experiences seems to be growing, even among those who tend to operate on a more private frequency in regular times.
And with this new era of sharing has come some touching revelations.
Deepening a bond while also practicing physical distancing may not be the easiest thing to do, but it's happening all over. So whether these famous pals are doing serious solids for each other or counting down their days of isolation so that they can have socially-distanced reunions, here are some of the ways that famous friends have been supporting one another during the COVID-19 pandemic:
HANNAH BROWN & TYLER CAMERON
Who has time to be mad when you have all the time in the world to think about the best ways to distract the world from the coronavirus? Hannah and Tyler added a touch of the familiar to these strange times when she joined Tyler, his brother and their friends at his place in Jupiter, Fla., to form The Quarantine Crew and tear it up on TikTok.
Hannah has since returned to Alabama to be with her own family, but her Instagram chats and TikToks with Tyler are still frenzy-inducing.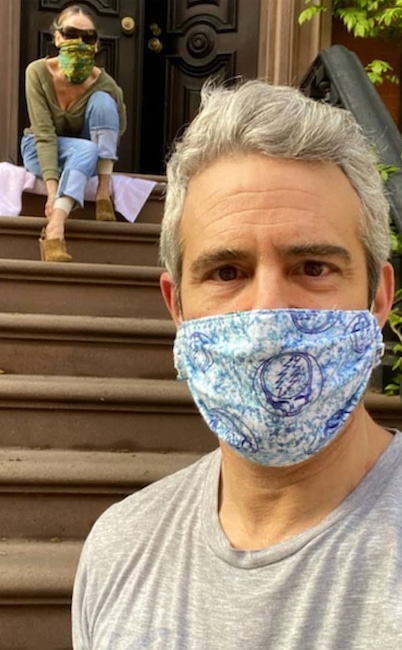 ANDY COHEN & SARAH JESSICA PARKER
The Watch What Happens Live star, fully recovered from his own bout with COVID-19, paid a front stoop visit to his longtime dear friend on what should have been Met Gala Monday, usually a day on the calendar that perennially belongs to SJP. "We're ready!" Cohen captioned the pic.
Proof that most everything, including isolation, is made better knowing a friend out there has your back.